where it all begins

The Douro

It all begins in the Douro.

This majestic river, that enters Portugal from Spain running to the Atlantic, in Porto, is the backbone to one of the most authentic and unique wine regions in the world.
It is the cradle of an impressive variety of indigenous varieties and of many Vinhas Velhas (old vines). These vines are gnarled and twisted by time, producing fewer grapes, yet unparalleled quality, which give rise to the best Ports and, increasingly, to excellent still wines.

Due to this cultural and economic legacy, combined with its natural and human singularities, Douro was named a part of the World Cultural Heritage by UNESCO, in 2001.
Quinta da Boavista
Located near Pinhão, on the right bank of the Douro river, Quinta da Boavista has an extraordinary view over the river. It is one of the most iconic estates in
the demarcated region, known not only for its historical connection with the Baron of Forrester, but also for its 36 hectares of high-quality vines.
It is also the birthplace of a series of impressive indigenous grape varieties and several old vine parcels, twisted by the time, that present low yields but exceptional quality grapes that allow the production of the best Port and still wines. In the old vines, those grape variety were commonly planted together in order to produce natural batches with high complexity and richness. Currently, they are separately planted with the 5 most currently used being Touriga Nacional, Touriga Franca, Tinta Roriz, Tinta Barroca and Tinto Cão
Quinta da Boavista's 36 ha of vineyards are spread over a dazzling geometric setting of terraces built by hand and supported by small schist walls, which is typical of the region. Some of the terraces are almost eight meters high, and this, along with the extreme climate and dramatic steep slopes, provides a unique terroir.
The estate is well preserved, kept rigorously as a fine example of the Douro's typical beauty.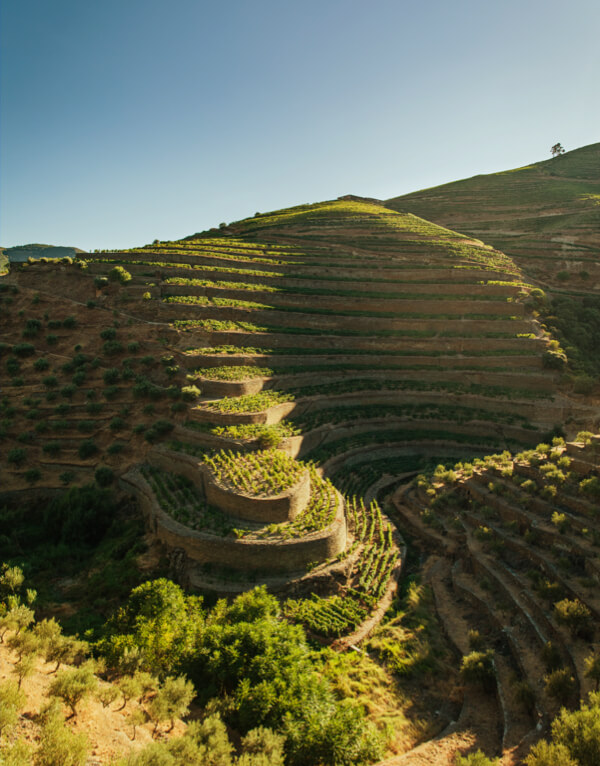 Old Vines

Vinha do Oratório

The icon vineyard of Quinta da Boavista, the Vinha do Oratório is formed in high and curved terraces in the shape of an oratory that reach eight meters in height. This vineyard, facing east, has an altitude that varies between 80 and 175 meters and has a mixture of more than 25 Douro grape varieties. With an average age of over 80 years, these vineyards allow us to produce a wine of remarkable concentration and complexity.
Old Vines

Vinha do Ujo

Vinha do Ujo was planted before 1930 on pre-phylloxera horizontal terraces and the land is supported by small schist walls. With more than 25 grape varieties, diversity is ensured and is only achievable in vines as old as these. They are spread over small north-facing terraces with an altitude that varies between 180 and 210 meters. These vines are curated year after year by the experienced hands of those who have lived in the Douro for generations.