where it all starts

The Douro

This majestic river, that enters Portugal coming from Spain running to the Atlantic, in Porto, draws the backbone of one of the most raw and authentic wine regions in the world. The vines are planted along poor, schistose grounds that rise in narrow terraces that seem to have been sculpted in the natural landscape, challenging gravity along the vertiginous slopes in the margins of the river, while it snakes through towards West.

Because of all this cultural, economical legacy, combined with its natural and human singularities, Douro was named a part of the World Cultural Heritage by UNESCO.
Quinta da Boavista
Located in the Cima-Corgo sub-region, near Pinhão, on the right bank of the Douro river, Quinta da Boavista is one og the most iconic estates in the demarcated region, known not only for its historical connection with the Baron of Forrester, but also for its 36 hectares of high quality vines.
It is also the birthplace of a series of impressive indigenous grape varieties and several old vine parcels, twisted by the time, that present low yields but exceptional quality grapes that allow the production of the best Port and still wines. In the old vines, those grape variety were commonly planted together in order to produce natural batches with high complexity and richness. Currently, they are separately planted with the 5 most currently used being Touriga Nacional, Touriga Franca, Tinta Roriz, Tinta Barroca and Tinto Cão
The vines are spread along a stunning geometrical terraced, hand-built scenario made from the regional schist. Some of the terraces go up to eight meters in height, which along the extreme climate and dramatic steep slopes, combine to provide a unique terroir. All the estate is well preserved, kept rigorously as an ex-libris of the Douro's typical beauty.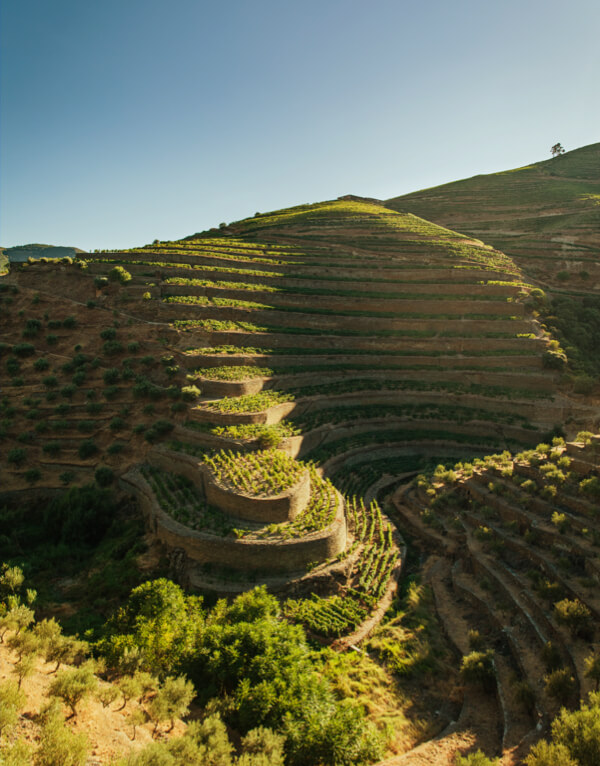 Old Vines

Oratório Vines

This is one of the most recognized plots of Quinta da Boavista which, due to its impressive wavy terraces almost 9 meters high, was named Oratório. Today, it is the origin of one of the most iconic wines on the farm, made exclusively with grapes from this parcel.
Old Vines

Ujo Vines

Ujo is another portion of the Quinta that gives the name and origin to one of the main wines of the Quinta, made exclusively with grapes from this parcel.